The St. Francis Option:
Retreat, Engage, or Both?

"And in the enclosure, where they live, they should not permit any person to enter."
The Rule for Hermitages, 7

"All the brothers, however, should preach by their deeds."
The Earlier Rule; chapter 17, 3

If you've turned on the news lately, you may be aware that the United States has a new President. If you paid attention, you may also be aware that there are some who are not pleased. On the other hand, you may have observed that there are others who are, on the contrary, quite satisfied. Oh, and the two groups are not happy with each other, either. Everywhere, it seems, there is chaos: the news and social media are filled with images of people attacking one another with vitriol and sometimes even fists.

Unfortunately, these divisions have hit close to home: family members are pitted against one another; colleagues are giving or receiving the silent treatment; longtime friendships have ended. Even parishes and churches are split along partisan lines. To some, the new president is clearly anti-Christian whose positions on immigration, the dignity of the human person, the environment, and the vulnerable are incompatible with the Gospel imperative to aid those in need (see Matthew 25:35-36). To others, however, he is seen as a champion of religion -- a King Cyrus-like figure whose election was orchestrated by the hand of God to shore up Christian institutions and stamp out vices plaguing contemporary culture (see Ezra 1:1-11).

In all this, what are we to do? How are we -- as committed Christians -- to live in today's society? Some are, in fact, opting not to. They have chosen, instead, to withdraw… to quit. They are calling it the "Benedict Option."

St. Benedict was born in Norcia in AD 480. As a young man, he was sent to Rome to study. However, he soon found himself troubled by the licentiousness and decadence of his companions and the citizens of the ancient city. So he withdrew to the caves of Subiaco to live as a hermit. There he met others who entreated him to guide them in the monastic life. He later wrote a rule and founded twelve monasteries in that area as well as in Mount Cassino where he died. While western society entered into a centuries-long period of decline, religious life flourished within the monasteries as later Benedictine monks safeguarded not only the Christian life, but also culture.

In a similar vein, some are calling on today's Christians to retreat from society. As our own society has deviated more and more from Judeo-Christian values (concretized in certain laws and court rulings) and is ever more hostile to the Church, they are suggesting that now is, once again, the time for Christians to withdraw from the world.

Quitting a culture that seems irreversibly anti-Christian and beyond the point of no return to form intentional, close-knit Christian communities bound by a strong and dynamic faith-based way of life would seem, according to this Option, appropriate and timely. Within these communities "fortified" in the Christian way of life, both religion and culture would be safeguarded and flourish and eventually lead to a Christian Renaissance of re-evangelization. This would be the "Benedict Option."

But does God really want Christians to withdraw from the world? Is there another way? What about a "St. Francis Option"?

I believe that the life and ministry of St. Francis of Assisi -- though he lived eight centuries ago -- can and still does suggest a relevant and timely way to approach our increasingly secularized contemporary world.

First, as Scripture assures us that "there is nothing new under the sun" (Ecclesiastes 1:9), Francis' era was no less wicked than our own -- or that of St. Benedict. Thomas of Celano, Francis' first biographer, described Assisi in the late 12th century in not-so-virtuous terms: "shameful and detestable; lust and wantonness; every kind of debauchery; wickedness; sin" (see First Life, chapter 1). If Thomas' description is accurate, it seems that the high middle ages in Assisi were no golden age of Christian sanctified living. And Francis, before his conversion, was quite at home in such an environment.

Full of pride and seeking to increase his social standing, Francis set out to become a noble knight. While overnighting in Spoleto on his way to fight in the Crusades, however, he heard a voice say to him, "Francis, who can do more for you, the Lord or his servant, a rich man or a beggar?" When Francis responded that the Lord could do more, he was told to go back to Assisi where he would be shown what to do (see Bonaventure, Major Legend, Chapter 1, 3).

After Francis returned home he felt, like Benedict (and perhaps many of us today), the need to leave his native city and retreat from society. Francis, too, desired to separate himself from the vices and transgressions of his townspeople in order to heal and listen to what the Lord had to say to him.

And so he did. Francis retreated with a companion to a cave on the outskirts of Assisi (see Thomas of Celano, First Life, chapter 3, 6). The sources do not specify where the grotto was. It may have been up on Mount Subasio in what is now a hermitage called the Carceri, or it could have been in a crypt underneath the ruined church of San Damiano. In any case, it was there -- in the solace in the hills outside the city of Assisi -- where Francis discovered his "great and precious treasure."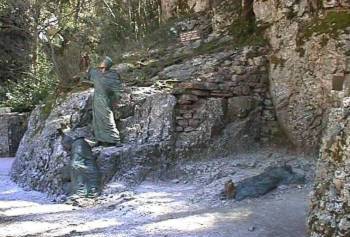 Some statues of Francis and two brothers in the Carceri hermitage.

Francis found great solace up in the mountains away from the vices and turpitude of the people of Assisi. It was there where he could be alone, contemplate, and consider spiritual things. Thomas of Celano, in fact, said that Francis frequently chose solitary places in the caves where he could direct his mind completely to God: "There in the clefts of the rock he would build his nest and in the hollow places of the wall his dwelling" (see Thomas of Celano, First Life, chapter 27).

Yes, Francis loved the mountains. In ancient times, mountains were called the "seats of the gods," as they were believed to be closer to the heavens. In the bible, mountains are places of important events: Moses received the commandments on Sinai; Elijah challenges the priests of Baal on Carmel; Jesus was transfigured on Tabor.

On the mountaintop, Francis, too, surely experienced God's power and omnipotence. God revealed himself as the God who was sacred, creator, lawgiver, mysterious, incomprehensible, omniscient, almighty, imposing and omnipotent. God is before the world, above the world, outside of the world. The mountains were like the vertical beam of the cross -- the part that pointed up: transcendence. In the mountains, Francis appears to be have exercised the "Benedict Option."

But, like Peter -- who also wished to build a tent and remain forever on the mountaintop (cf. Matthew 17:4) -- Francis was not to remain in permanent retreat. And here, indeed, the Benedict Option for Francis ends. Francis -- like Peter -- had to descend, once again, back down to the "valley" where his work would be carried out. Yes, God had another mission for Francis.

After returning from the mountain, God revealed to Francis how he wished for him to live. Francis soon embraced a leper (which he referred to as the beginning of his "penance"; see Testament, 1-3). He then dressed as a penitent, renounced his possessions, and begged for alms.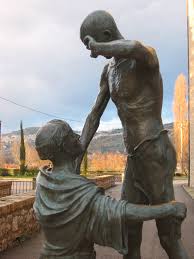 A statue of Francis embracing a leper in Rivotorto, near Assisi.

Then, within the little church of San Damiano, he heard another voice speak to him: "Francis, Francis, go and rebuild my house, which, as you can see, is totally in ruin" (see Bonaventure, Greater Legend, chapter 2, 1; Thomas of Celano, Second Life, 10; Legend of the Three Companions, 13). This would become his life mission: rebuild God's Church.

Francis set out promptly to restore the particular church of San Damiano. He then moved on to another one down in the valley, St. Mary of the Angels, in addition to a third church called San Pietro di Spina, further away, still in the valley. Yet, the larger meaning of that command revealed itself over the course of his life: Francis was called to rebuild the universal Church.

Soon brothers began following Francis. Bernard of Quintavalle -- a canonist -- came with Peter of Catania; then Giles, a peasant, joined him. They slept in animal sheds near a crooked stream known as Rivotorto, while they did odd jobs during the day. They traveled itinerantly, lived on alms and Providence, and preached to the people about the goodness of God and calling on others to do penance. Soon, when they were twelve in number, they went to Rome speaking directly with the Holy Father, Pope Innocent III, seeking approval for their way of life, which they were granted.

From that moment on, in 1209, the movement exploded, and people from all walks of life flooded in. They served lepers and other marginalized people, they preached in the city squares and in churches, the priests heard confessions and celebrated Mass.

The charism given to Francis by God was, thus, one of direct interaction with the people; it was not one of retreat or flight.
However -- and this is very important -- Francis continued to withdraw to the mountains throughout his life. Francis went, in fact, frequently to the hermitages. He would go there for fasting and prayer after long stretches of ministering to the people, or, he would spend numerous "forty-day" "Lents" in preparation for major feast days.

He would often spend four or five "Lents" each year in the hermitages. In addition to the "forty days" preceding Easter (today's Lent), he would also pray for the forty days after the Epiphany (January 6); from the forty days preceding Sts. Peter and Paul (June 29); from the Feast of the Assumption to St. Michael (August 15-September 29); and the forty days preceding Christmas (today's Advent). If one does the math, this adds up to about half the year, or -- assuming Francis did this every year -- half his converted life. This is a tremendous amount of time spent in silence and prayer.

But Francis' time in the hermitages served an important purpose: through prayer, Francis became more and more united to God and a channel of his grace and love. Thomas of Celano said of Francis: "Thus he would direct all his attention and affection toward the one thing he asked of the Lord, not so much praying as becoming totally prayer" (Celano, Second Life, 95). He also said that after praying, Francis was "changed almost into another man -- another Christ" (ibid., 99).

The hermitages were so important to Francis that he even wrote a rule describing how the friars should live there. He eventually founded some twenty mountain hermitages in his life in various parts of Italy; many of them, in fact, still have active communities of friars who follow Francis' Rule for Franciscan hermits within.

Francis loved the hermitical life in the mountains so much that he once felt tempted to remain for the rest of his life as a hermit (see Little Flowers of St. Francis, chapter 16). Not trusting in his own discernment, however, he asked a friar, Sylvester, as well as Clare and the sisters to pray for him to know the will of God. Clare and the sisters received the same response as did Brother Sylvester: Francis was called by God not only for himself, but to bear fruit and bring others to God. "He had to continue preaching," they told him.

Indeed, once again, the hermitage was not a monastery for Francis, and praying in the mountains was to be temporary, never permanent. Prayer was his connection to God to give him that energy to allow necessary to re-dedicate himself to the active life. Like Jesus, Francis would leave his retreat and go back down to the valley to serve the lepers, the community, the Church. The "Total Gospel Life" would call him to once again descend to the plains below to continue the preaching and serving the poor.

And when Francis descended down from the mountains to the valley below, he embraced that other aspect of Christian spirituality: immanence. For the cross has two beams -- vertical, as well as horizontal. Down in the valley, Francis would live out the horizontal imperative serving others.

The valley was like the Incarnation -- Christ humbling and lowering himself from the heavens above to be with humanity below. God reaches down, stoops down, from heaven to be with us. God did not stay a mystery, he became a child. He did not hide from humanity, he revealed himself as a man. In the Incarnation, Christ became close to man and allowed for relationship and unity in the material world.

Thus, Francis -- like Christ -- would always have a strong concern for the world: he would always desire to help the poor and the marginalized; he would focus on being together in community and fellowship; he believed strongly in the individual conscience. For Francis, God was not just an all-powerful "being" up in heaven somewhere; he was with us here where we are: God is immanent; God is love.

But in this, Francis was really walking in the pathway of much bigger footsteps. For it was Christ who alternated between praying in solitude and serving people. For though Christ "often withdrew to the wilderness to pray" (Luke 5:16), he was always called back down to the valley where he preached, healed, performed miracles and taught.

For Francis, then, his entire spiritual life would be like walking up and down mountains. And it is this dichotomy -- retreating temporarily to the mountains and returning to the valley -- that is a characteristic hallmark of Francis' spirituality. Going up: being on the mountaintop alone with the transcendent God in prayer and hermitage to receive strength. Going down: being in the valley to serve the lepers and preach in the cities.

Francis's life, thus, would not be prayer alone or ministry alone; it would be both to prayer and ministry -- transcendent and immanent -- alternating between the mountains and the valleys. Francis's mountain would be Mount Sinai as well as the Mount of Beatitudes. Never the first or the second -- but both -- one in fulfillment of the other.

And this is what I would call the "St. Francis Option."

As opposed to the Benedict Option which implies permanent retreat and separation from the world, the St. Francis Option alternates between the two: temporary separation followed by likewise temporary engagement with the world -- "in the world, but not of it."

The St. Francis Option challenges us to discern the delicate balance between the contemplative life and the active life. It keeps our gaze fixed on God above without neglecting our feet and hands in this world below. It places us in the roles of both Martha and Mary (see Matthew 26:6-13; Mark 14:3-9; John 12:1-8). It gives us hope in eternal life without neglecting the Gospel call to those suffering and in need of the Good News we have received. It allows for receiving as well as giving.

Though Francis and Benedict lived in different eras from our own as well as one another, the Options they chose are both still relevant today. They can both give us guidance as we, too, ask ourselves the same questions that they asked themselves eight and sixteen centuries ago in ages of cultural decadence and wickedness (similar to our own):

"Lord, what do you want me to do?"

What is the answer for you? Which "Option" do you choose?