It was August 24 of last year, at 3:40 in the morning. I was sleeping soundly with Katia in our apartment in Loreto. Suddenly, I was awoken by a combination of strange sensations and noises: the bed was shaking; an abnormal, rumbling sound was coming from outside; car alarms were going off; neighbors were shrieking.

While I lay there disoriented and confused, Katia, lying next to me, knew what was happening: "Terremoto!" she shouted. It was an earthquake! After the house shook aggressively for about ten to fifteen seconds, it started swaying for about the same amount of time. Finally, it stopped and everything became, once again, still. Eerily still.

Katia and I went downstairs and immediately turned on our devices to get some news. The quake was so violent in Loreto, I was worried how bad it was at the epicenter. Our Italian friends were online, too, and were declaring themselves safe on social media. But then the news reports came in. It was bad.

The first reports were that the magnitude was 6.2 and the epicenter was close to Perugia or Rieti-- about seventy miles from where we live. There was tremendous loss of life and property, they said. I worried about Assisi. It turned out that the affected areas were some mountain villages along the border of the Umbria, Lazio, Abruzzo and the Marches. The damage was catastrophic; some towns were razed to the ground.

Initially, the death toll was just two. But then it climbed to six, then ten, then twenty. Eventually, it reached 299 people. Another 365 were injured, while approximately 2,100 lost their homes. It was a true tragedy.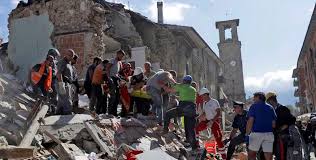 Amatrice after the August 24 quake

In the weeks that followed, there were some aftershocks, which, according to geologists and volcanologists, were normal as the faults released pressure and the earth readjusted. Fortunately, they were small… That is, until October.

In late October, there were some more strong quakes -- including a 5.5 and a 6.1. They were all concentrated in the same area near Norcia and Rieti. We felt them lightly in Loreto. But the "big one" came on Sunday morning.

It was October 30, at 7:30 am. I had a large group coming in that very morning and was texting my guide in Rome when it hit. When the house started shaking, I put the phone down and went outside with Katia and the kids. It was so strong I had to hold onto the railing. When it stopped, I texted my guide telling her we just had a strong earthquake. She said she felt it strongly, too. But she was in Rome -- on the opposite side of the country. The entire peninsula had shaken violently from the Adriatic to the Tyrrhenian Seas.

This was the worst one of the year. It was a 6.6, the epicenter just north of Norcia. To my horror, I saw on the news the Benedictine church built over the birthplace of St. Benedict in Norcia -- where we regularly took groups to -- completely leveled. By grace, no one was killed; damage from previous quakes had already forced people out of their homes.


It's now been well over two months without a big quake. Yet, things are not the same. People talk about it all the time and you can still see it on their faces. Hotels here in Loreto or at the beach nearby have taken in the "terremotati" -- homeless victims of the earthquakes. Many are confused and depressed as their lives have been completely destabilized.

The Franciscans in this region have suffered, too, as about one third of their friaries are either severely damaged or otherwise uninhabitable. The retreat center next door has taken in some of them. The Poor Clares, too, have been hit hard. The sisters of Camerino had to abandon their church and monastery (which they spent ten years rebuilding after the 1997 earthquake!) and have joined the sisters in nearby San Severino. However, parts of their monastery are uninhabitable, and the twenty-six sisters are sleeping in the guest house and in the speaking parlor and are cooking in a small kitchenette. It will be many, many years before their situation is rectified.

Yet, the friars and sisters are people of faith and so are, as much as can be expected, serene. However, many here are not. I've heard that during times of calamity, people tend to become more introspective. I believe it. When something like this happens, an earthquake, it forces us to question certain assumptions. For when the land we live and walk on -- our "terra firma" ("firm or solid earth") -- shakes, it rattles the very foundations of our lives.

And so the age-old question is asked: "Why does God allow suffering?"

In the olden days, people believed that natural disasters were "acts of God" (which term is, I believe, still applied in certain insurance or legal verbiage). Some still believe this to be true. Speaking on the esteemed Catholic radio program, Radio Maria, a Dominican priest recently opined that the earthquakes were "divine punishment" against Italy after Parliament enacted legislation establishing homosexual civil unions. Really?

Indeed, his comments earned a sharp rebuke from the Vatican: "Statements like this are offensive to believers and scandalous for those who do not believe," responded Archbishop Angelo Becciu, one of the highest ranking prelate in the Vatican and among the closest collaborators of Pope Francis. He went on to say that such views are "pagan and pre-Christian, and do not respond to theology of the Church because they are contrary to the vision of God offered to us by Christ who revealed the face of God's love not of a capricious and vengeful God."

The archbishop's response certainly seems more Christ-like than the first image of God as a petulant cranky divinity who deliberately wills calamity as punishment against innocent people for the sin of Adam and man's misguided free will. Yet, where was that "face of God's love" that night when people's houses came crashing down on them as they slept, or now as they wander around aimlessly with no home, business, or future?

St. Augustine sees the hand of God not in the evil which he permits (and never the agent of) but in the goodness that follows: "God would not allow any evil in his works, unless in his omnipotence and goodness, as the Supreme Good, he is able to bring forth good out of evil." The supreme example of this in Easter Sunday arising from Good Friday. And, as often happens after tragedies, the affected people here have been the recipients of generous and gracious aid offered by people of good will.

St. Paul sees the presence of God more directly involved in the midst of suffering, not just subsequently: "God encourages us in our every affliction." Yet, it seems the consolation God offers has a higher purpose: "[and this is] so that we may be able to encourage those who are in any affliction with the encouragement with which we ourselves are encouraged by God" (2 Cor 1:4).

Indeed, for those who are spiritually mature and called, suffering can have a much greater end. In the further words of St. Paul, it can be a way of "becoming like him (Christ) in his death" so that we, too, "may attain the resurrection from the dead" (Philippians 3:10-11). Here, then, suffering can become a way of mystically and graciously suffering with God for the salvation of all. In suffering, we, too, can become "become a living sacrifice" (see Romans 12:1) in order to "complete what is lacking in Christ's afflictions" (see Colossians 1:24). In this, we "pick up our cross and follow Jesus" (Mark 8:34).

Of course, there are no easy answers to suffering. The Catechism makes this clear: "Only Christian faith as a whole constitutes the answer to this question: the goodness of creation, the drama of sin and the patient love of God who comes to meet man by his covenants, the redemptive Incarnation of his Son, his gift of the Spirit, his gathering of the Church, the power of the sacraments and his call to a blessed life to which free creatures are invited to consent in advance, but from which, by a terrible mystery, they can also turn away in advance. There is not a single aspect of the Christian message that is not in part an answer to the question of evil" (CCC, 309).