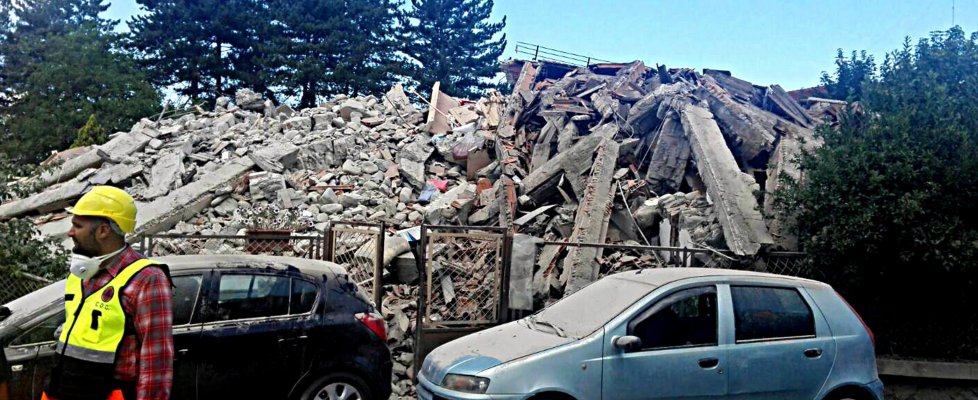 (photograph from Amatrice)

Early on the morning of August 24, there was a massive earthquake in central Italy on the border between the regions of Lazio, Umbria and Marche. This natural disaster has brought untold suffering including loss of life, injuries, and destruction of property. The official death toll is currently over 240, but climbing as there are still hundreds of people missing. Please keep the people of the affected areas in your prayers.

What follows is my personal experience in an area well away from the epicenter:

We felt it in Loreto (where we live) -- as did everyone from the Adriatic Sea to Rome on the Tyrrhenian Sea! Fortunately, there was no damage to Loreto, but a few mountain villages about 100 miles southwest of here have been devastated and the death toll keeps climbing.

Being from Georgia, I had never experienced such a phenomenon. Sure, I've been through plenty of nasty lightning storms and hail storms (and a near-miss with a tornado or two), but only a light earthquake once while I was in Assisi about six years ago. But it was nothing like this.

Around 3:40 am this morning, I was awakened from a deep slumber by various noises and sensations taking place at the same time: low rumbling sound, shaking bed, wife gasping, neighbors screaming, car alarms… Though I'd never experienced a real earthquake, I knew immediately that it was a big one.

After a few moments of disorientation, Katia and I lay on the bed hoping it would pass soon and not be very bad. And it wasn't (for us…). After the house shaking fairly aggressively for about 15 seconds, it started swaying for another 15 or so seconds. And then it stopped.

Immediately, we could hear people talking loudly outside our window. This is Italy -- the land of no privacy. I opened up the door to our balcony and listened to two sisters who live in adjacent apartments in the building next door yelling at each other. They were arguing over whether it was better to go out into the open street or stay inside under the kitchen table. Our landlords (and neighbors) on the other side were also speaking loudly to each other as they were making sure everyone was okay. Meanwhile, car alarms were sounding and we could hear more muffled voices in the distance.

The shocks were strong here but not violent, so I wasn't worried about Loreto. I was, however, worried about where the epicenter was. I went downstairs and turned on my phone. Immediately, though it was early, there were already some WhatsApp and social media messages. People were stating they were okay and were asking about their friends.

I tried to find a news report about the epicenter. In a few minutes, a short report popped up saying it was near Perugia. "Oh no!" I thought to myself. Not again. Assisi, just 15 miles away, suffered awful damage in 1997 from the Colfiorito earthquake. Fortunately, the report was false.

Then another report said it was near Rieti! My heart sank again. We have a walking tour from Assisi to Rome beginning in ten days and the itinerary passes through Rieti. Then I saw a post from a gentleman who lives in Rieti who said the city was fine.

Finally, I decided to turn it over to prayer and go back to bed. I gave thanks that I was okay and my loved ones were, too. In a few hours, more accurate reports would be out.

I awoke again around 6:30 and the official reports were out. Towns I'd never heard of were destroyed: Arquata, Accumoli and Pescara del Tronto. However, other places I know of suffered damage, too: Norcia and Amatrice.

Unfortunately, the towns most affected are those in the mountain villages not retrofitted with anti-seismic reinforcements. The large cities (including Assisi, Perugia, Rieti, and Rome) are fine.

The initial victim count was two, then six, then ten. Now it's over 240 and still climbing.

Here in Loreto, life goes on, but things are subdued as you can see it on people's faces and it's all people are talking about. Events are being cancelled both out of respect for the suffering as well as prudence for aftershocks.

I hope to drive down to the affected areas, but may wait a bit as there is the risk that I'd get in the way more than being of service.

Please pray for the victims and give thanks for life today.