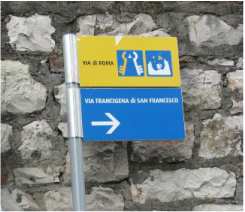 THE WAY OF SAINT FRANCIS
The Way of Francis (also known as the Via di Roma or the Via Francigena Francescana) is the most popular Italian Cammino.
Beginning in Assisi -- the Land of Francis and Clare -- it finishes in the Eternal City of Rome -- the city of St. Peter and the Popes. In this, it connects the spirituality of the humble city of Assisi with the majestic city of Rome.
The "Way of francis" offers truly stunning views of the valleys of Spoleto, the Nera, and Rieti; it passes through the storied cities of Assisi, Spoleto, Rieti, and Rome, in addition to numerous lesser known medieval towns, many still walled.
The full walk from Assisi to Rome takes about 13 days. We have options of shortening it depending on the time you have available.
We can offer options for the expert hikers who prefer the challenge of walking the entire Cammino; we can also help those who prefer to skip the difficult climbs (some in excess of 600 meters/2,000 feet) by arranging van service.
The Cammino is designed to be self-guided (there are sign posts, paint markings, GPX tracks, and several good English guidebooks), but, upon request, we can also provide an accompanying guide.


Click here to read what about what the trail is like from previous participants


Click here for more information on the Way of Francis
Click here for official website on Via Francigena Francescana
---
MEDIA and NEWS