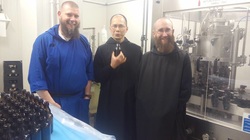 THE WAY OF ST. BENEDICT
A newer Cammino is the Way of St. Benedict from Norcia to Montecassino.
The Way of Benedict begins in the birthplace of St. Benedict, Norcia (Nursia in Latin and English) and traverses through Mt. Subiaco, an important monastery he founded; it ends in Montecassino, where his body is preserved along with his sister, Scholastica.
The Camino of St. Benedict is a quiet, contemplative walk away from the large cities. It is mostly off-road, on dirt trails or dirt roads, meandering through small villages and nature.
The full walk from Norcia to Montecassino takes 16 days. However, we can shorten it, depending on your schedule.
We can also offer various options from expert and fit hikers who prefer the challenge of the entire camino (a self-guided tour along the entire rustic journey with a backpack, or those who prefer easier walks with van service and an accompanying guide.
[NB: The earthquakes of 2016 caused damage to Norcia and some other places along the beginning of this trail. Contact us before beginning for an update on accommodations.]
Click here for official website on the Way of Benedict (Italian only)
---