Medjugorje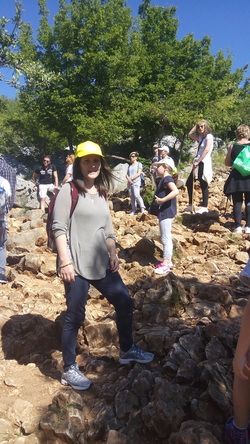 Though not yet approved officially by the Catholic Church, Medjugorje draws millions of pilgrims each year, leading to countless conversions and many claims of supernatural phenomena.
On June 25, 1981, six local children claim to have had a vision of the Blessed Virgin Mary. Since then, Mary has been allegedly appearing to them each day at 6:40pm. Though they were intimidated by the local communist authorities (including actually being locked up in a morgue and insane asylum, and threatened of being forever separated from their families), not one of them ever recanted.
Medjugorje is a small town and pilgrims can easily visit all the significant sites: the parish church of St. James, Apparition Hill, the Blue Cross, the Risen Christ statue (that emits droplets of water), and Mt. Krizevac (Cross Mountain).
Medjugorje is a wonderful place to go for prayer, to attend Mass in English, make confession, spend time in Eucharistic Adoration and pray the rosary.
Medjugorje can be accessed by air (to the major airports of Sarajevo, Split, or Dubrovnik) and then by taxi. Or you can get arrive in Croatia from Italy from the ports of Ancona or Bari to Split or Dubrovnik and then by taxi.
Click here to see some photos of Medjugorje.
---