Lourdes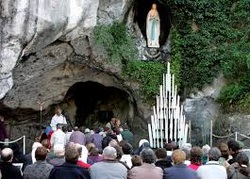 Nestled in a valley in the southwestern part of the Hautes-Pyrenees mountains, is one of the most visited pilgrimage sites in the world: Lourdes.

On February 11,1858, the Virgin Mary began appearing to a 14-year-old girl, Bernadette Soubirous. Eighteen such apparitions were reported, including one in which Mary referred to herself as the Immaculate Conception. Bernadette, died in a convent in 1879. She was beatified in 1925, then canonized in 1933.

Lourdes is visited by millions of pilgrims each year including the sick. Every year, countless pilgrims receive graces and some even experience true miraculous healings.


---