Fatima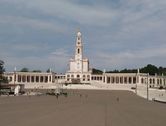 This year, 2017, marks the first centenary of the apparitions to three children of Fatima, Portugal. This year, Pope Francis also canonized Francisco and Jacinta, two of the three shepherd children.

The Blessed Virgin Mary, the Mother of God, appeared six times to the "Three Seers" near Fatima, on the 13th of each month between May and October of 1917.

The Blessed Virgin told them that she had been sent by God with a message for every man, woman and child living in our century. Coming at a time when civilization was torn asunder by war and bloody violence, She promised that Heaven would grant peace to all the world if Her requests for prayer, reparation and consecration were heard and obeyed.

This year is a special year in which countless pilgrims have journeyed to Fatima to visit this sacred place.


---