"Francis of Assisi, the End of the World, and Hoeing Beans"

It was a veritable powder keg as all up and down the entire Italian peninsula were friction and discord. The commoners were rising up against the nobility in their struggle for liberty against feudalism; neighboring city-states were constantly at war over land disputes; Guelphs were clashing with Ghibellines for control of their cities; and bloody street brawls were commonplace as noblemen sought vengeance for previous injuries or to defend the honor of their families. One was either the aggressor or the defender as all jockeyed for power and control.

The foremost conflict, however, was between the emperor and the pope. Conflicts between Holy Roman Emperors, Otto and Frederick, north of the Alps spilled over down on the peninsula where the emperor struggled to solidify his empire. The Germanic kingdom -- consisting of lands in northern Italy as well as the south including Sicily -- was being chipped away at by Italy's myriad factions and strife. Yet it was the pope -- that potentate of the Papal States in the center of Italy (and of his kingdom!) -- that grieved the emperor the most. Therefore, attacks against monasteries and churches were commonplace leading to papal interdicts and excommunications against the emperor.

While all this was going on around him, Francis of Assisi was calmly at work hoeing his garden near the humble church of St. Mary of the Angels.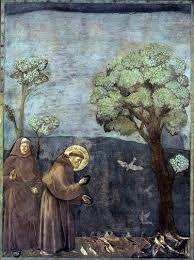 Suddenly, a young friar ran up to him yelling excitedly, "Francis! It's the end of the world! The end of the world is coming! What are you going to do?" Francis, however, quietly went about his work in the garden without even acknowledging the hysterical friar before him.

This surprised the novice friar who assumed, perhaps, that Francis had not heard him. So he shouted even louder, "Francis! I said the end of the world is coming! What are we going to do? What will become of us?"

Francis, without looking up, continued serenely at his work and replied simply, "Nothing. For now I will finish hoeing this row of beans."

Though on the surface this story (likely apocryphal, as it does not appear in any of the 13th-century sources) may seem simple, it has much deeper meaning. It gives us a little insight into a man who is both engaged with the world (in his work in the soil as well as his interaction with his brother), but who is also not easily excited by it. It is apparent that this is a man who is "in the world, but not of it."

In subsequent reflections, I'll examine Francis's actions and what he did to achieve this detachment. Hopefully, despite current events, we, too, can use the "St. Francis Option" and also learn to serenely "hoe our beans" despite today's claims that the end of the world is near.