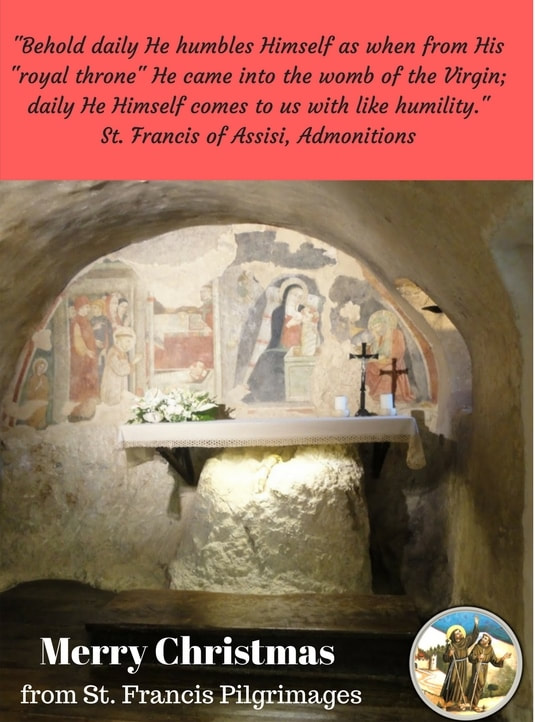 The end of year is a good time to reminisce about the year. As I look back on our third year in Loreto, I am reminded of Scripture: "I will praise you, LORD, with all my heart; I will declare all your wondrous deeds" (Psalms 9:1). As I reflect on the past twelve months, I have much to praise God and be grateful for.

I started writing about fifteen years ago, but it has only been in the past two in which my writing has begun to bear fruit. My new book on St. Clare was just released in July; thanks to the marketing people at TAN Books, the launch included a flurry of radio and print interviews. I wrote it as a follow-up companion book to my Francis biography, published a year earlier. Earlier this year, after a chance encounter with the guardian of San Damiano (who is also the director of Edizioni Porziunola), a Franciscan publishing house based in Assisi, they purchased the rights and Katia and I spent the beginning of the year translating it into Italian. It should be on the shelves in Italy in late winter/early spring. Lastly, sales in the English edition were good and a second print edition will be forthcoming (in paperback making it more economical). To those who have purchased my books, thank you. (And to those of you who have not, they are available on Amazon!)

I even sent Pope Francis a copy of each book. Will he read them???


If you've been following my posts on social media, you may have noticed frequent pictures and posts on Walking Camminos, particularly the "Way of St. Francis" from Assisi to Rome. You've probably realized that I'm a big fan of the Italian mountains and countryside. Just a few weeks ago, Robert Duncan, of Catholic News Service produced a wonderful video of me and a few pilgrims walking the Cammino into Rome. Others have caught on and I've worked with a number of individuals and small groups. Though physically challenging, it is a true experience of a lifetime.

(BTW, for those who prefer to stay closer to Assisi, I've begun creating an easier walking itinerary. "Franciscan Walks" will be a series of easy to light self-guided walks around places associated with Franciscan events and spirituality in Assisi and Umbria. Stay tuned for more!)


When not walking the Italian trails, I made a few trips abroad. In the spring, I went to Portugal where I met the owner of a local pilgrimage company to help me with a group I was putting together to Fatima and Spain.

When they came in September, I took Claremarie with me and joined them in Madrid and Toledo. Like Italy, both Spain and Portugal are rich in history, culture and spirituality. Fatima, in particular, is one of those few and extraordinary places in the world.


Our Italian pilgrimage groups this year were perhaps smaller than in the past. We had a number of families who came to Italy to walk in the footsteps of the saints. Working with small groups, nonetheless, is special for Katia and I as it gives us a chance to get to get to know people in a more intimate way and bond with them.


Lastly, as I look back at my year, there were two other highlights. The first is in the spring when I had the honor of interpreting for Gianna Jessen, an abortion survivor who travels the world telling her story and the circumstances of her birth (a botched abortion), and preaching the Gospel. I realized that most of her witnessing is not in speaking: her life in and of itself preaches the truth.

I worked with her during four conferences in southern Italy near Benevento and all were packed to capacity. It was a singular joy getting to know Gianna who is a rare witness on many levels.


The other highlight was the honor of meeting Pope Francis in September … Well, sort of… I joined a group of 550 young people and families from Loreto who were invited by Pope Francis himself to be his personal guests of honor in the Vatican. He gave us a full four hours of his time on a Sunday. That was a day I will never forget.


Of course, most of my time is spent as a husband and parent -- driving the kids back and forth from school, soccer and volleyball events, catechism, doctors, recitals, grocery store and pharmacy, etc. My biggest source of joy and gratitude is in being a dad and a husband.

In fact, this Advent season has taken on extra meaning for Katia and I. In just a few days, on December 27, Katia will give birth to our third child.

Living here in Loreto, near the Holy House of Mary in which the "Word became flesh," this Advent has truly been a season of "waiting and joyful expectation." Please remember us in prayer on December 27, the feast of St. John.

Finally, Katia and I would like to wish everyone a Merry Christmas: to all who have been with us on a pilgrimage; to those who are planning on coming; and to those who follow and support what we are doing. We truly do hope your Christmas season is full of joy and thanksgiving. Emmanuel is with us… God is truly with us!