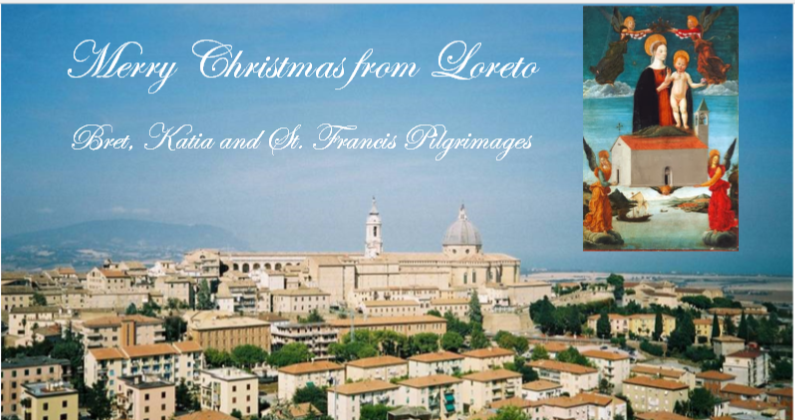 Katia and I would like to wish everyone a Merry Christmas: to all who have been with us on a pilgrimage; to those who are planning on coming; and to those who follow what we are doing. We really do hope your Christmas season is full of joy and thanksgiving. Emmanuel is with us… God is truly with us!
The end of the year is always a nice time to reflect on where you have been and what you have done the previous twelve months. We moved here to Loreto in September, 2014 after feeling called to come. What was supposed to be just one year, has become two, probably three (and who knows how many more)!
I have to admit that Facebook is a great way to reminisce on your past! I just looked at my posts over the past twelve months and re-lived some of the things we did. 2015 has definitely been a full year -- one full of blessings, wonders and graces, but not without its challenges and anxieties.
Living in central Italy here in Loreto has afforded my family and me the opportunity to travel up and down the peninsula. Over the past year, Katia, the kids, and I visited Venice and Padua; we went to Rome and Vatican City (including a special visit inside the Apostolic Palace in the Vatican thanks to Monsignor Francisco!); we spent a weekend in lower Umbria in Todi at Susan Evans's fantastic restored farmhouse: (
http://ilgustodelpaese.com/
); and we spent several holidays in Puglia with Katia's relatives.
We also travelled outside the country, as well. We went to Jerusalem in January and wandered around the city for an unforgettable five days of prayer and pilgrimage. In May, we took a boat from Ancona to Split, Croatia and went into Bosnia-Herzogovinia to Medjugorje where we prayed and had the opportunity to pray with one of the visionaries during an apparition. We all went back home in Georgia in July and the following month, Katia and Claremarie went to Lourdes. Most recently, Claremarie and I were in Paris from November 12-13. I promised her I would take her there if we moved to Italy, and so I did. Yet, just after our flight took off from Charles de Gaulle airport at 4:00, the city was attacked by terrorists. When I turned on my phone after landing in Atlanta and saw the news, I was a little rattled to say the least, but also grateful we avoided the turmoil.
On a personal level, I set a goal for myself to walk from Assisi to Rome along the Via di Roma, even if piecemeal. So far I've walked six out of fifteen days. I also had the opportunity to spend nine days in August in the picturesque Dolomite Mountains helping Alessandro Gullo on a walking tour he put together for a group of 15 Americans.
Work has certainly been busy, too. I went to Anzio and Nettuno (about 50 miles south of Rome in Lazio) and Corinaldo (45 minutes north of Loreto) following the footsteps of St. Maria Goretti. I was researching the places where she lived and was martyred as I translated a book about her life for Fr. Carlos Martens as part of the tour of her relics through the US. I also translated two other books this year: I translated one titled, "Saints in Mercy," published by the Vatican for the upcoming Jubilee Year of Mercy; the other, about Padre Pio, was written by a delightful gentleman who knew Padre Pio personally as his spiritual son. I also finished writing my second book on St. Francis which will be published with TAN books in the spring.
We were pretty busy with our pilgrimage business, too. We had five pilgrimages in Italy this year and two in the Holy Land. Certainly, the security situation in Israel was cause for concern, but we work with a good agency and guide there who advised us well. Although our numbers overall were lower this year, things are definitely picking up next year as the Extraordinary Jubilee Year of Mercy kicks in.
We spend a lot of our free time volunteering. We live next door to the "Terra dei Fioretti" -- a retreat center dedicated to families or young people -- and we help the friars and nuns on weekends doing whatever they need: we drive retreatants to/from the train station; we serve in the refectory; we help people get checked in; and I mow the grass. Katia also volunteers from time to time with Maria Vision, a Catholic television station based here in Loreto.
Of course, it goes without saying that our regular responsibilities as parents -- driving our kids back and forth from school, soccer practice, doctor appointments, recitals, etc. -- take priority over everything else we do.
When reflecting on all the things we've done over the past year, by far, the biggest blessing we've received is simply by living "in the shadow of the House of Mary" -- to use the local expression here in Loreto. It is truly a blessing to be able to go the Holy House frequently for Mass or prayer.
And every time I go there, I always feel that I am in the presence of something (or Someone) special. This sanctuary is not only one of the most important Marian shrines in the world, it is among the most important Christian sites. Because this is the where the Annunciation took place. Right here in Loreto, we have the walls of the house of Mary within which she said "Yes" to the Lord. She would become the Mother of God.
And just eighteen months ago, we gave our own "Yes" to the Lord and said we would come here to Loreto. Even though we really didn't know what we would be doing here or exactly why we were coming, we felt the tug in our hearts. And we said, "Yes." Coming here has resulted in many joys and some challenges. Thank you, Lord, for all you have done for us.
Mary's Magnificat (Luke 1:46-55)
My soul proclaims the greatness of the Lord,
my spirit rejoices in God my Savior
for he has looked with favor on his lowly servant.
From this day all generations will call me blessed:
the Almighty has done great things for me,
and holy is his Name.
He has mercy on those who fear him
in every generation.
He has shown the strength of his arm,
he has scattered the proud in their conceit.
He has cast down the mighty from their thrones,
and has lifted up the lowly.
He has filled the hungry with good things,
and the rich he has sent away empty.
He has come to the help of his servant Israel
for he has remembered his promise of mercy,
the promise he made to our fathers,
to Abraham and his children for ever.