A pilgrimage to Medjugorje

My family and I were blessed to have spent five days in Medjugorje, Bosnia-Herzegovina between May 30 and June 3. We went with a group of sixty pilgrims from the Marches region of Italy led by Father Roberto DeLuca, OFM as well as an Italian Marian guide named Ombreta. It was truly a wonderful experience.

I had never been to southeastern Europe, the Balkans (except for Greece once, if that counts as the Balkan Peninsula). In fact, I was (and still am) woefully ignorant of this part of the world. The only thing I knew about the region was that there was a war in the 1990s that had something to do with ethnic and religious unrest. (While there, I was reminded that this was the setting of the so-called powder keg when WWI exploded after Archduke Franz Ferdinand of Austria was assassinated in Sarajevo). And that's about it. Oh, and that five countries today (Slovenia, Croatia, Macedonia, Bosnia-Herzegovina, and Serbia) were once united under communist Yugoslavia. So apart from going to a special apparition site, I was enthusiastic to learn about a part of the world completely unfamiliar to me.

We boarded a ship in Ancona at about 7pm for a 12-hour overnight trip to Split, Croatia. Although I've traveled all my life with modern forms of travel -- car, bus, airplane, and train -- this was the first time I'd ever utilized the most ancient form of transportation (aside from the horse and buggy.) I was especially excited to cross the Adriatic Sea on a route that has been traversed by ships since ancient Greek times.

There are two companies that sail from Ancona to Split -- an Italian one and a Croatian one. Italians prefer the Croatian company, Jadrolinja, as opposed to the Italian one, Blue Line Ferries. In the past, Blue Line would cancel departures last minute due to lack of sales and rebook passengers 48 hours later. Word got out, so now everyone takes Jadrolinja (meaning Water Line in their language, I think).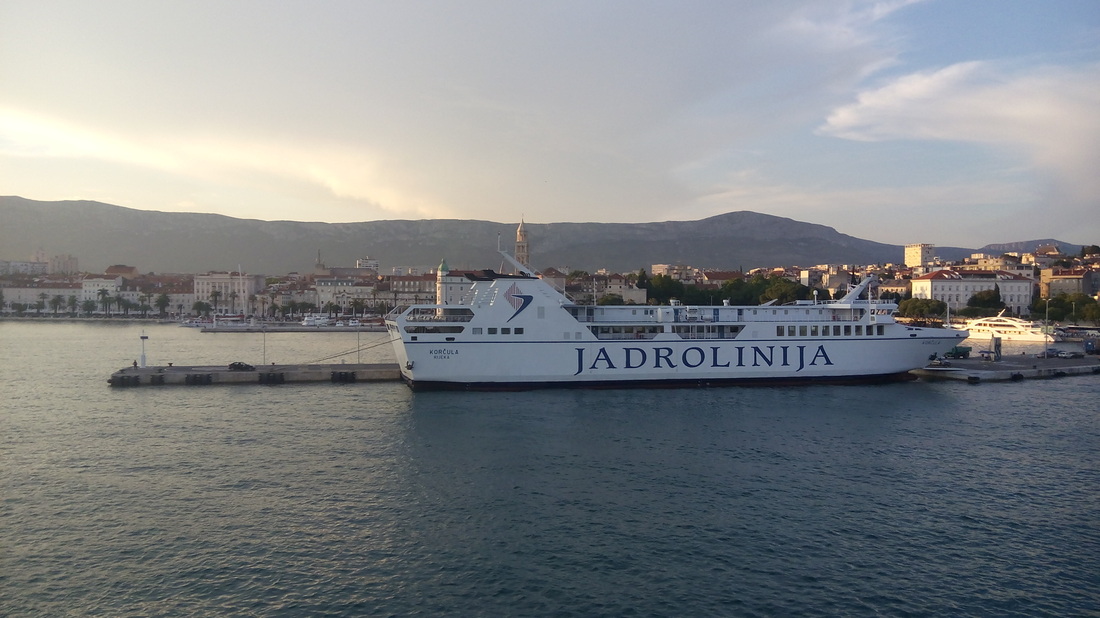 Fortunately, it was smooth-sailing and the water was like glass (er…. like a table, as the Italians like to say). As we departed, we had a beautiful sunset and a beautiful morning upon arrival in Split.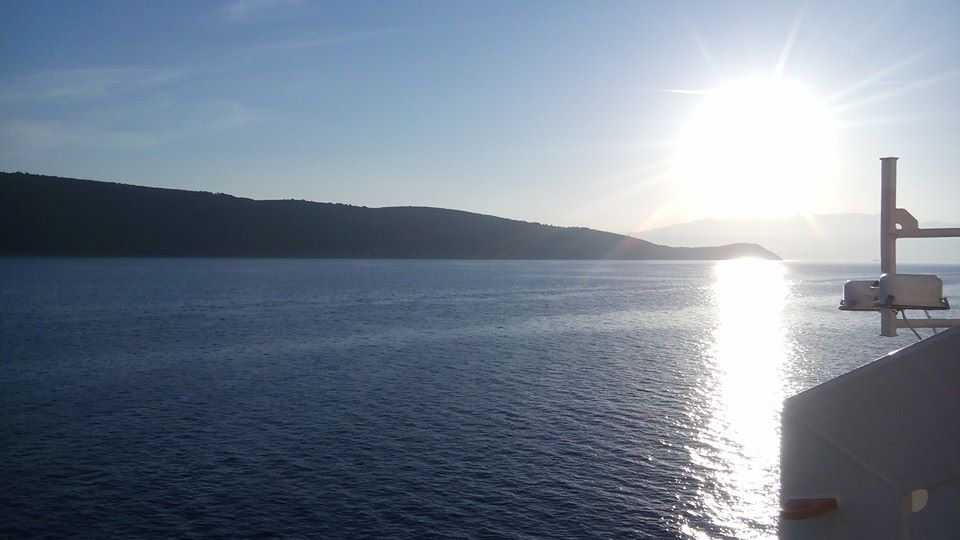 We got a bunch of stamps in our passports: an exit stamp in Italy, arrival stamp in Croatia, departure stamp from Croatia as we crossed the border into Bosnia-Herzegovina (2 hours later) where we got an entrance stamp. (Upon return four days later we had the same number of stamps in reverse order.) Needless to say, the trip took a while with a group of 62 going through three customs. We were also warned that customs in Bosnia- Herzegovina wasn't friendly to Americans (or western Europeans for that matter) and if they're in a bad mood, they'll make you wait hours. It went smoothly for us, though.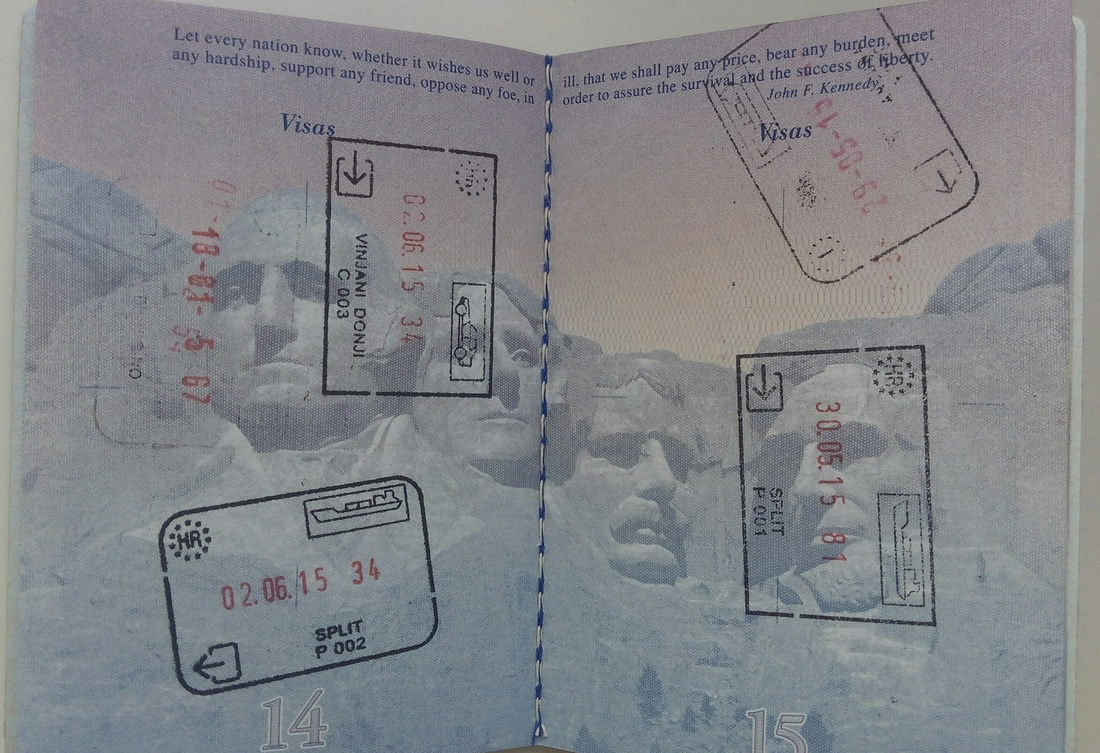 After we boarded our chartered coach for Medjugorje, the first thing I noticed was how rugged, barren and mountainous the land was. Maybe it was due to the road we were on (we traveled on a nice recently built highway from Split directly to Medjugorje, [bankrolled by European Union]) but we didn't pass any cities. Other than Split, which was a typical port-city (exactly the same as Italy, as our daughter, Claremarie, said), the rest of the trip was rural.

The people from Puglia (a rocky region in southern Italy) have a local saying that when God created the world, he put all his leftover rocks in Puglia. Apparently, whoever invented that saying never went to the Balkans. But God did, and he left a lot of rocks there.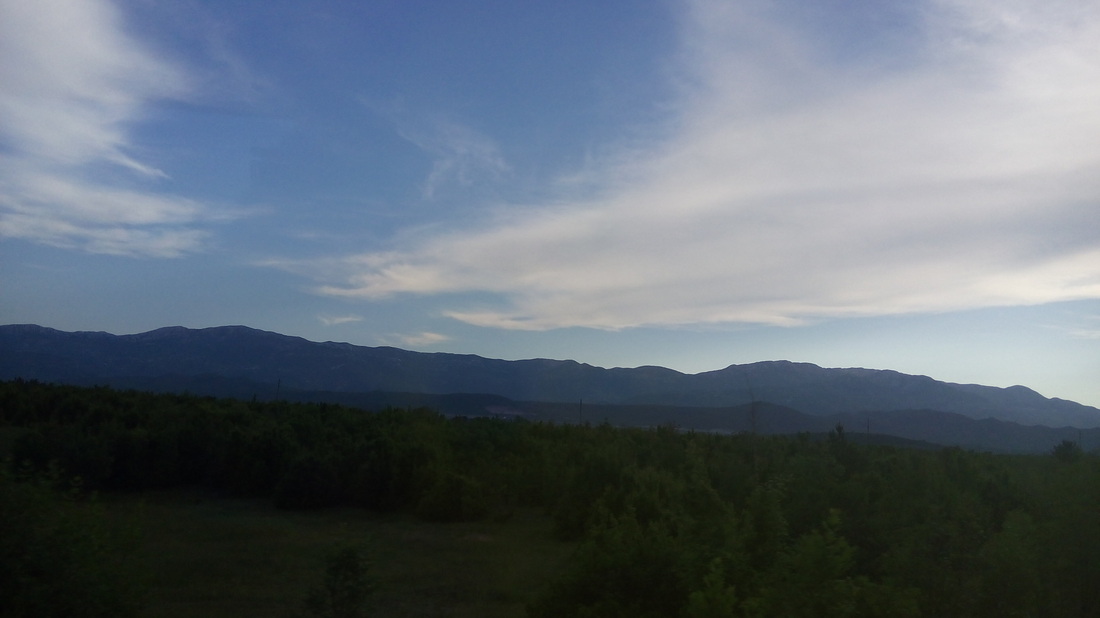 We got to our hotel (pension, really) in Medjugorje in time for lunch -- a very important moment for the Italians… The building was owned and run by a friend of one of the visionaries, Vicka. I learned that when the visions began in the mid-1980s, Medjugorje was a small village of just a few hundred people -- mostly women and children. The men had all left the town for work in the cities or in other countries, including Germany and Italy. Obviously, there were no hotels. So when pilgrims began coming in droves, families, friends, and other townspeople of Medjugorje hosted people in their homes. Now there are many hotels (including swanky 4-star ones with spas), but the tradition of locals hosting people (who now have now built larger homes) remained.

If Medjugorje was once the boondocks, it is no longer so today. Now, there is a thoroughly developed touristic infrastructure; it's full of hotels, restaurants, pubs, and especially souvenir shops. In fact, this is one of the major criticisms that Medjugorje "skeptics" level against it: they say it's too commercial. Or worse, critics charge that the visionaries themselves have personally profited by the influx of pilgrims and tourists. Personally, I wasn't distressed at the commercialization. As I work in the field of religious tourism, I know that people who come to pilgrimage destinations have to sleep, eat, and take home souvenirs (we bought a statue of Mary and a handful of rosaries ourselves). And when they number in the millions each year, such infrastructure needs to be fairly extensive. As far as the visionaries personally getting rich off it (someone wrote on my FB wall that such was the case), I don't buy it. It's true that some of them live public lives (unlike the visionaries of Fatima and Lourdes who isolated themselves after the events). Even if they have started businesses, all of them are married with families to support (unlike the Fatima/Lourdes visionaries half of whom entered convents). But I doubt they're rich.

Despite recent constructions, Medjugorje is still a small town and you can walk anywhere. Over the next three days we went to the major sites visited by pilgrims: St. James parish, Apparition Hill, Mt. Krizevac, the Risen Christ statue, and Blue Cross. That's pretty much it. And if pilgrim groups are fortunate (some might say graced), they can spend some time with one of the visionaries.

The story of the parish of St. James is striking. Despite the fact that the town of Medjugorje had only a few hundred inhabitants, construction on a huge church able to house twice that number was begun. Started in 1939, it finished in 1969 -- just 12 years before the apparitions began and pilgrims began pouring in. Some say it was a prophecy foreseeing the future crowds that were going to come.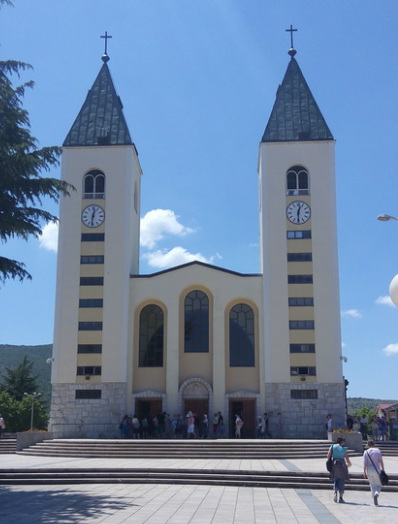 Numerous masses are held throughout the day in St. James in the local language as well as in Italian and English. In different places around the parish, rows of confessionals are set up for people to receive the sacrament of reconciliation. Everywhere we went, we saw people praying rosaries. It was a true testimony to the spirit of Medjugorje to witness the amount of prayer and sacraments people were experiencing. We went to Eucharistic Adoration at night in an open-air plaza to the right of the parish.

The next day, we climbed Apparition Hill (known locally as Mount Podbrdo) where the six visionaries saw Mary for the first time on June 24, 1981 when they were between sixteen and ten years old. This is one of the two main hills people climb in Medjugorje -- this is the easy one… Except, it's not that easy. (We'll get to the hard one next). Remember what I said about the rocks being everywhere? Once you got off the paved roads, the land is full of rocks. Really full. Personally, I loved climbing over the jutting rocks, but it's not that easy. We had a 23-year-old young paraplegic man named Matteo in our group. A number of generous young men took turns carrying him up the hill in his wheelchair.

We were in Medjugorje in May, so it was extremely crowded. Also, as we were there during the 2nd of the month, making it even more crowded as one of the visionaries receives public visions only on that day of the month. It really wasn't conducive to prayer with the crowds, but it was a wonderful experience nonetheless.

Below is a photo and a video I took of Apparition Hill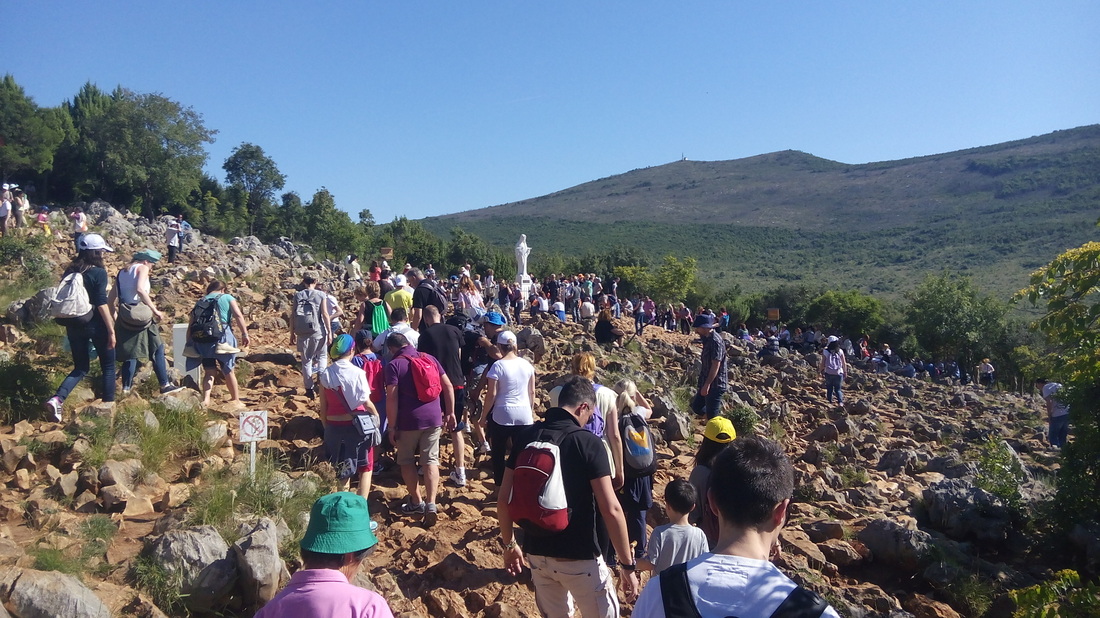 The next day we climbed the hard hill: Mt. Krizevac. It means "Cross Mountain" in Croatian and it was a real penance. It takes about three or four hours to climb. Along the way up, groups stop and pray the Stations of the Cross. A cross was built atop the hill in 1933 in commemoration of the nineteenth centenary of Jesus's passion and resurrection. Today people of all ages and health conditions climb the mountain. We were graced to hear the testimony of two recovering drug addicts in the community of Cenacolo who have a ministry of bringing people down the mountain when they get hurt. When they get the call, they ask three questions: "What nationality are they? Which station did they fall down at? How much do they weigh?"

Below are some photos and video I took of Mt. Krizevac.


Another important visit -- and one of the highlights for us -- is a bronze Risen Christ statue. We were told that it mysteriously emits liquid droplets from just above the right knee. Apparently, tests have been done on the liquid which have been confirmed to be human tears. The communists once took the statue down and examined it to see if there had been some sort of mechanical apparatus rigged up to produce the droplets. There was not. All this got the attention of our ever inquisitive ten-year-old daughter, Clare. When she saw the liquid drops coming out, she said, "Okay, I have to admit it... This is really cool." We heard from other pilgrims and people we met of many graces take place around the statue.


The last pilgrimage site in Medjugorje is visiting the Blue Cross. We were there at an important time for the Blue Cross, as that is the site where one of the visionaries, Mirjana, usually goes when she experiences a vision on the 2nd of each month. The site of the Blue Cross has been a place of apparition since the early 1980s when the visionaries were prohibited from going up Apparition Hill due by the communist police. It is a special place. However, due to the crowds, we did not spend much time there.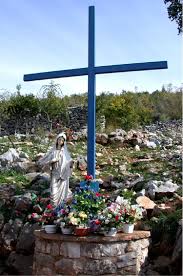 The biggest blessing we received in Medjugorje was being able to meet two visionaries. First, our guide arranged for Vicka to come to our pension and lay hands on everyone present.

Next, we were present in a small chapel as one of the visionaries, Ivan, received his daily apparition. Three seers still experience visions each day at 5:40 pm (6:40 in the summer during daylight savings time). Through an unusual set of circumstances, I was allowed in the chapel with my children, Iacopo and Claremarie. (We were told by the guide that they sometimes let Americans in and we were successful). The three of us received a special blessing from Mary as did the rosary and cross we brought with us.

During our five days in Medjugorje, we met a number of people -- either in our group or around town -- who had had very powerful life-changing experiences in Medjugorje. We met some people who have been there over thirty times! Personally, we didn't experience anything extraordinary (we did take photographs of the sun, but nothing mysterious was revealed!) Instead, our experience simply renewed our devotion to Mary and gave us more hope and faith in Christ. We have a special fondness for Medjugorje in our hearts and we look forward to returning again in the future at some time.

Since I've been back, I have been following with interest Pope Francis's comments about Medjugorje on his recent trip to Sarajevo and in his homily a few days later. It appears that a pronouncement or judgement from the Holy See is forthcoming. I have a feeling it will be both stern and flexible. Stern in that private revelation (apparition sites, extraordinary messages, etc.) should always point to public revelation (Christ as revealed in Scripture, Tradition, and papal/conciliar teachings); it should never replace it. For example, there are some who go to Medjugorje to experience God while claiming, for one reason or another, that they don't like priests or don't go church at home. This is wrong, and I think it will be clarified.

On the other hand, the upcoming judgement should be flexible. The reality is that countless people have rediscovered (or found for the first time) their faith in Medjugorje. And, more importantly, if Mary has, indeed, been appearing to six seers for over thirty years, the Church cannot dismiss it. It must seek the truth -- however revealed.