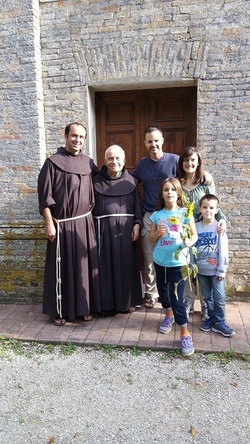 Last summer, Katia and I moved with our two children to the Marches region in Italy. We live in Loreto, a picturesque town of 10,000 residents overlooking the Adriatic Sea on one side and the Apennine mountains on the other. Loreto is known primarily for the Holy House of Mary, which has been here since 1294 and is housed underneath a magnificent basilica. With Loreto as our base, we organize pilgrimages to this region, to Assisi, and to all of Italy. We also work with the OFM friars in their retreat center next door to the apartment we rent. Our life is one of prayer, service, and community.

In 2004, my wife -- Katia -- and I met the provincial minister and the other friars of this region. It was one of those encounters that, upon looking back, was life changing. It didn't change my life in the direction I would have wanted at the time, but it was transformational in the way God wanted in his time. I suppose this is how God operates his graces so often in our lives -- thy will, not mine be done. At that time, I was ready to move to Italy immediately to begin working with the friars organizing pilgrimages together. Instead, it took ten years. I had a lot to learn…

The Marches (known historically as the Marches of Ancona) has a very long and important Franciscan history beginning with the first missionary journey by Francis in 1208 when he had only three followers -- Bernard, Peter Catani and Giles. The Legend of the Three Companions says that they divided into two pairs and went out: "Francis united with Giles, went to the Marches of Ancona, the other two set out towards another region. Journeying towards the Marches, they rejoiced in the Lord." Paul Sabatier, one of the pioneers of Franciscan studies, said: "The Marches of Ancona became and remained the province more truly Franciscan than every other." Further, the Fioretti -- the Little Flowers of St. Francis --were written by a friar in this region…

But I'm digressing… I will get more into the history of the order in this region in future articles. For now, let me return to how we met the friars. But first, a little background on us. After a big Italian wedding in 2002 (Katia is originally from southern Italy) we moved to my hometown outside of Atlanta where I was working as an airline pilot for Atlantic Southeast Airlines. Right away, we both began formation in the Immaculate Conception SFO fraternity in Jonesboro, Georgia. We were both deeply attracted to Franciscan spirituality: Katia had developed close relationships with the OFM friars and the nuns of the Alcantarine Franciscan order when she lived in Assisi where she attended university; I had been to Assisi several times as a student and Francis played a role in my own conversion. Both our experiences in Assisi led us to the Secular Franciscan Order.

Yet, even though our life was good --I had decent long-term career prospects, we had a great faith community, we had close friends, etc. -- something seemed missing. Katia's Franciscan experiences in Assisi were still on her heart, and I, too, wanted to do something more service-oriented for God. So Katia got in touch with one of the nuns she had known from Assisi, Sr. Armanda Parenti, in addition to her former spiritual director, Padre Emidio, who both said that they were now working with the friars of the Marches province. The new young provincial of the OFM order, Padre Ferdinando Campana, was doing some new things in his region: he was working hard to promote his province as the "Land of the Fioretti -- the Little Flowers" -- a kind of fourth "destination" in central Italy behind Rome, Assisi, and Laverna; he was organizing mini-pilgrimages for young people visiting the sites of the Fioretti; he was converting some of their old friaries into places of prayer and places for the poor. In fact, he was actually looking for families to help them in their new projects. We were eager to learn more and explore the possibilities, so I took some time off work and we set out back to Assisi.

Padre Ferdinando, Sr. Armanda and Padre Emidio were all going to be in Assisi together and could meet us around 8:00 pm after dinner in our hotel. Equipped with my notebook -- full of potential job descriptions, bulleted ideas, questions, and plans -- I hurried my wife down to the lobby of Casa Leonori promptly at 7:45pm. After 8:00 came and went (with no friars/nuns), I started to get a little irritated. "Where were they?" I repetitively asked Katia in the same way a little kid asks his parents from the back seat, "Are we there yet?" This was her country and she knew two of the three -- surely she should know where they were. After another hour or so, we decided to head back up to our room and more comfortably wait for "the call." After more questions, "Are you sure they're coming?" and me no longer being able to keep my eyes open, I finally resigned to that sinking feeling of having been stood up. I put my pajamas on and tried to talk myself out of that subsequent feeling of being miffed at having flown all the way over to Italy for this. Yet, I did my best to talk myself of negative feelings: how could I be mad at friars and nuns? Surely they've got a good excuse, I thought to myself as I lay in bed ruminating on our next steps and plans for the future ...

At some point, I vaguely heard some kind of electronic ringing or something, followed by someone aggressively shaking me and Katia's voice saying, "Wake up, they're here, they just called, they're downstairs…" After wondering to myself, "Where am I?" and "Who's here?" I recovered my senses enough to pose a rational question to Katia, "What time is it?" But there was no time to answer; we had to get dressed and go downstairs to meet the provincial, Sr. Armanda, and Padre Emidio who were waiting for us. As I rushed downstairs while running a comb through my hair, I grabbed Katia's cell phone: it was 12:45 in the morning.

"Did we wake you up?" was the provincial's first question to me with a smile. "No," I lied, "I was up. Where I am from, we always have meetings with important people in the middle of the night," I tried to joke. The three of them were wide awake and conducted themselves as spritely if it were 1:00 in the afternoon. Apparently, such middle-of-the-night rendezvous were ordinary occurrences for them.

After I shook off the fog and the meeting began, I soon realized that I had left my notebook in my room. Darn! But it didn't take me long to realize that it would have been useless anyway. The meeting was all over the map: topics rambled back and forth touching on American politics, what it was like to fly airplanes, the situation of the friars in Italy, and occasionally his province and their affairs… and then back again. In the beginning, I kept trying to move the line as straight as possible from A to B; that is, how to get us from the US to the Marches. But I couldn't seem to get a clear answer. It was as if the line started at A, went forward a little bit in the direction of B, then back, then up and down, then around in circles, and even towards C. After a while, the meeting seemed to conclude and it was decided that Katia and I should come and stay in his region for a month or so to "get to know the friars and the reality there." We could come in June. Nothing concrete. Nothing formal. Nothing in writing. Just, "We look forward to seeing you again…" So we did.

The month in June was similar to our initial meeting with Padre Ferdinando. We met many friars of the Marches. And we realized pretty quickly that most of the friars here reasoned quite differently from the way I did; they had very different attitudes towards things like time, material possessions, and money.

Take Padre Costantino, for example, -- an elderly friar living in a hermitage called San Liberato. One day I asked him to take us to a place called the Cave of the Friars in the hills somewhere near his friary; he knew where it was, as he had cleaned it up many years earlier when he was young. After turning off the paved road onto a dirt road that descended and eventually narrowed into something of a mule trail and got quite steep, he eventually decided he couldn't drive any longer and we had to get out and walk. I looked back up at the steep rocky incline and wondered how he would get his Fiat 600 back up the mountainside. He didn't seem concerned as we continued on foot to find the cave. We never found the cave, nor was he able to drive the car back up the steep hillside. I got it up only with an aggressive running start. I asked him what he would have done had we not been able to get the car out. He said he didn't know, maybe he would have called a tow truck. It was as if he were dealing with an old piece of luggage.

I later found out that Padre Costantino had entered the order when he was a young teenager, and for the first half of his life in the order, the friars didn't touch money -- literally. Dealing with money and property was something fairly new to the friars. The provincial, as well, had entered the order when he was just 14 years old. He, too, had grown up in a Franciscan culture that operated very similarly as in the days of St. Francis himself. The friars lived poverty in all its aspects literally: they owned nothing and what they had was given to them. Things came and things went. Thus, they were very detached towards material things.

In time I came to realize that the friars' attitude towards material things, projects, time, relationships with others, etc. was fundamentally one of gift, not one of possession. This was quite different from the way I viewed the world. I realized that if I were to be able to serenely work with the friars, my entire way of life and mode of thinking would have to change: my American-instilled values of efficiency, planning, and organization would be useless here; my professional pilot training running checklists and striving for on-time departures would definitely not work; nor would my personality traits tending towards conventionalism, security, and predictability do me any good either. No, if I were to be successful here, all that would have to go out the window and I was going have to adopt a whole new way of doing and being. And in fact, it took a lot of (necessary) time before I had matured my own Franciscan spirituality enough to be able to make the leap and move over here; I had a lot of interior work to do on simplicity and poverty first.

Today we help them in their retreat center with groups of all kinds doing whatever they need: we help people get checked in, drive people to and from the train station, serve food in the refectory, mow the grass or whatever else is needed. Yet, we also have our own sense of independence: we live as a normal family taking kids to school, karate practice, parties, etc. Yet, we are connected to a very long Franciscan tradition in this Land of the Little Flowers.