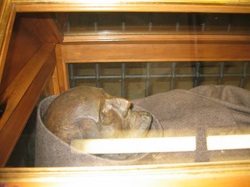 Saint James of the Marches
San Giacomo delle Marche
by Bret Thoman, OFS

On Pilgrimages, we often take groups to the scenic hill town of Monteprandone, in the lower part of the Marches region overlooking the Adriatic Sea. This is the birthplace (and resting place) of St. James of the Marches (1393-1476). Although he lived a remarkable life and accomplished many great things, he is not very well known. Katia and I were fortunate to have discovered him through the provincial minister of the Marches region, Fr. Ferdinando Campana, O.F.M. In the summer of 2004, he took us on a pilgrimage throughout his region, where we witnessed the incorrupt body of the saint and learned about his life. St. James was born in 1393 in Monteprandone to a poor family. His baptismal name was Domenico, meaning "of the Lord" (from Latin, Dominus). Unfortunately, his cruel father abused him and James left home as a boy. He placed himself under the care of his uncle, a priest. Through the generosity of his uncle, Domenico was educated in nearby towns of Ascoli and Offida. He later graduated with a law degree in jurisprudence from the University of Perugia in 1412.

On one occasion while traveling to Assisi for work, he went to pray in the church of the Portiuncula, St. Mary of the Angels. Inspired by the friars he witnessed there and by the example of St. Francis, Domenico decided to enter the Franciscan Order. In 1416, at 23 years of age, he became a novice, taking the religious name of James. He was ordained a priest four years later and he eventually became known throughout Italy as a forceful preacher, penitent, peacemaker, builder, healer, and finally saint.

James of the Marches was known for his severe penances. He fasted often, he slept only a few hours of sleep nightly, and he always wore underneath his habit either a rough hair shirt or an iron coat of mail armed with short sharp spikes. Toward the end of his life, Pope Sixtus IV forbade him to fast, saying that his health was "in the public interest."

James took his vows seriously. Due to his promise of poverty, he traveled on foot everywhere he went. He pulled a small wagon by hand, which contained all his possessions: a bible, a prayer book, some theological works, liturgical vestments and vessels. He personally hand-copied most of the few books he owned, and he wore just a threadbare habit. He took the practice of obedience very seriously, as well. In fact, on one occasion, he received an order from his superior to go abroad while lifting a cup to his mouth to drink. He immediately set it down and left without drinking, as he was afraid of losing the merit of obedience by the least delay.

James was endowed with universal gifts, which he used to work indefatigably to build up the kingdom of God. He used his legal training to write civil statues for eleven cities, some of which are still on the books today. He negotiated peace and worked to reconcile various groups: catholics with heretics, warring nations, feuding towns, guelphs and ghibellines, but above all, men with God. He was successful at accomplishing numerous building projects: he helped construct basilicas, friaries, convents, libraries, public cisterns and wells. He instituted a credit agency called Montes Pietatis (literally, "mounts of piety"), which was a nonprofit credit agency that lent money at low interest rates (or none at all), upon the security of objects left as collateral. He served as Apostolic Nuntio to the Holy See and traveled various times to Germany, Austria, Sweden, Denmark, Bohemia, Poland, Hungary, Bosnia, Dalmatia, and Slovenia - no small feat, given the difficult means of travel then. He also found the time to write 18 books. So remarkable were his accomplishments that the pope offered James the position of Archbishop of Milan, one of the most prestigious dioceses in Europe throughout the Middle Ages. James, however, refused, preferring instead the simple life of the itinerant preacher.

James was also known as a healer. In his day, widespread superstitions in teh form of amulets and other good-luck charms were in use, particularly among the poor. James substituted the pagan symbols with the Latin letters of the name of Jesus, IHS (Iesus Hominum Salvator). He used the Christian symbol to heal people of various maladies by touching the letters to their bodies. Interestingly enough, James's miraculous healings are not limited to centuries ago; to this day, people occasionally call the friars of Monteprandone to report healings or miraculous interventions through the intercession of St. James.

St. JAmes was instrumental in the Observant Franciscan Reform. He was one of the pillars of the Observant movement along with St. Bernardine of Siena, St. John of Capistran, Bl. Albert of Sarteano. These Franciscans sought to "observe" more closely the original Rule of St. Francis at a time of general laxity among many followers. They lived strict poverty and penance and attracted many followers. In 1517, Pope Leo X formally separated the Franciscan Order between the Observants and the Conventuals.

In 1462, James became the subject of the Inquisition. In a sermon, he preached his theological opinion on the Blood of Christ, stating that the blood shed during Christ's passion was not hypostatically united to the divinity of Christ during the three days of his burial. The case was controversial, and James was summoned to appear before the Dominican inquisitor, which he refused. Eventually, James appealed to the Holy See, after which a silence was imposed upon both the Dominican inquisitors and the Franciscans. No decision was ever reached.

James died in Naples on NOvember 28, 1476. His funeral was attended by the pope, the king of Naples, the roual court, many clergy and countless laypersons. James's body remained in the Franciscan church of Santa Maria la Nova in Naples for over five centuries until 2001 when it was finally transferred to his birthplace of Monteprandone. There his incorrupt body remains exposed for the faithful to venerate. Pope Urban VIII beatified him on August 12, 1624, and St. James of the Marches was canonized a saint on December 10, 1726 by Pope Benedict XIII.

He is generally represented as a Franciscan holding a chalice and a veil. His emblem is a chalice from which a snake is escaping - an allusion to the endeavors of certain heretics to poison him. St. James is the patron saint of the Marches region and of children. His feast is celebrated on November 28.